Description
VEGAN Mini Pies / Mini Tarts: Cherry, Pineapple or Apple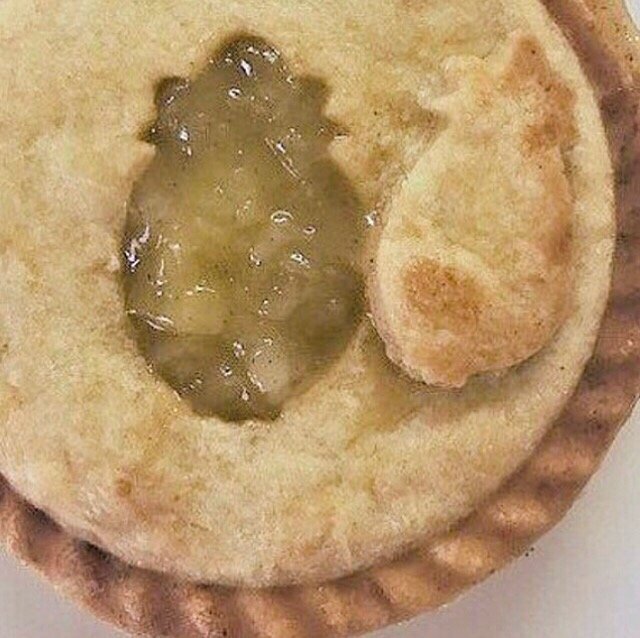 CONTENTS
Five (5) rustic mini pies / mini tarts with flaky pastry
FLAVORS
– Cherry
– Pineapple (If you've never tasted a pineapple pie, you don't know what you're missing!)
– Apple
OPTIONS
– Sugar-Free
(sweetened with stevia)
– Sugar-Added
(sweetened with sugar)
NUTRITIONAL INFORMATION
Average cherry tart = about 60 grams of carbs each
– My SUGAR-FREE cherry tarts = about 29 grams of carbs each with 249 calories
– My SUGAR-FREE pineapple tarts = about 33 grams of carbs each with 267 calories
As a pastry chef, my goal is NOT to have the lowest-carb products on the market, but to substantially lower the carbs without affecting quality or taste. You do not have to be diabetic to enjoy my sugar-free and low-sugar pastries!
INGREDIENTS
wheat and white whole wheat flours, cornstarch, salt, trans-fat-FREE shortening, sugar-free (or sugar-added) pie filling OR sugar-free crushed pineapple, cinnamon, nutmeg, stevia OR sugar
SIZE
Tarts are 4″ mini pies/tarts. (A little smaller than a pot pie.)
PITTSBURGH PICKUP ONLY
Please contact me BEFORE ordering for ordering instructions and to arrange pickup of your order in Pittsburgh (South Hills), PA.