Description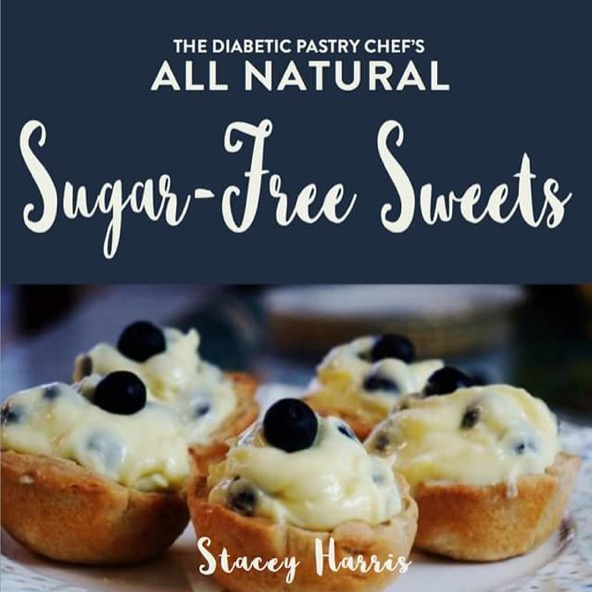 My anticipated sequential cookbook, Sugar-Free Sweets, in hardcover and as a digital download in 2019.
Recipes are all-natural, sugar-free and some are gloriously gluten-free! From hearty & healthy sugar-free muffins and gorgeous cakes to dreamy custards, crisp & chewy cookies, gluten-free pastries, classy confections and beyond—Sugar-Free Sweets offers a robust range of sweet treats. Many of the recipes in this cookbook feature lustrous photographs, beneficial nutritional information and practical tips on baking with all-natural sweeteners, healthier fats and blending lower-carb flours. I will show you step-by-step how establishing and maintaining a lower-carb lifestyle can be truly enjoyable!
A fabulous addition to any treasured collection.
About Author, Diabetes Expert & Pastry Chef, Stacey Harris
Shortly after attending culinary school to become a pastry chef, I was diagnosed with diabetes. Mercy! I was devastated, as I absolutely loved to bake and loved to eat sweets.
I experimented with a lot of artificial sweeteners and was mainly disappointed with the results. I thought, there has to be a better way to bake great tasting products from my kitchen that will be enjoyable for diabetics to eat. After all, our love of eating is what got most of us into this mess to begin with! After many experiments, I developed a formula that consistently turned out delicious confections that even non-diabetics love.
As featured in the Los Angeles Times, Diabetic Living® magazine & Diabetes FORECAST® by the American Diabetes Association® as well as on KDKA-TV in Pittsburgh, my recipes are not only appealing to the eye, but health-conscious and truly scrumptious!
Mission Statement
The Diabetic Pastry Chef, Inc. is dedicated to helping people manage their blood glucose levels. This is accomplished through our publications and social media platforms as well as via our great-tasting, diabetic-friendly, low-carb and sugar-free food products.