Description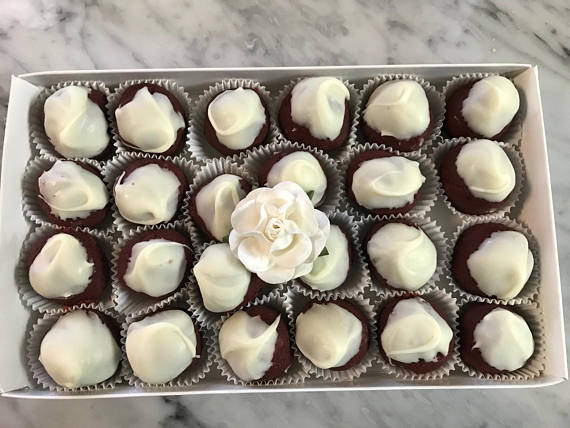 My Red Velvet Cake Truffles, as featured in Diabetic Living® magazine!
They make a heavenly gift and are perfect for brunches, bridal showers, weddings or baby showers.
OPTIONS
Choose sugar-free OR sugar-added when ordering
CONTENTS
24 elegant cake truffles
INGREDIENTS
whole wheat flour, eggs, buttermilk, canola oil, baking soda, baking powder, cocoa, salt, vinegar, coffee, Whey Low® Type D Granular sweetener OR sugar, natural cake enhancer, natural red food color
NUTRITIONAL INFORMATION
Per SUGAR-FREE cake ball:
80 calories, 9g of net carbs and 1g of protein
As a pastry chef, my goal is NOT to have the lowest-carb products on the market, but to substantially lower the carbs without affecting quality or taste. You do not have to be diabetic to enjoy my sugar-free and low-sugar pastries!
PACKAGING & SHIPPING
– These beauties will be carefully packaged in a white box with a festive, gold stretch bow.
– DUE TO HOT WEATHER AND POSSIBLE MELTING, THESE ARE ONLY AVAILABLE LATE FALL THROUGH WINTER.
– FREE SHIPPING is yours!