Description
Oatmeal-Raisin Cookies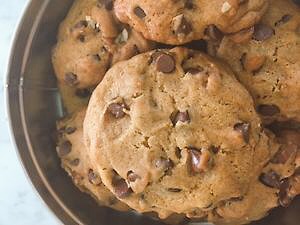 Chocolate-Chip Cookies (with or without nuts)
(Price includes local Pittsburgh next-day delivery–leave note with time tomorrow you would like delivery)
Between 8:00am-9:00pm seven days a week, we now offer our freshly-baked cookies throughout the Pittsburgh area, regular or sugar-free, featuring my popular recipes that my fans nationwide have loved for years in your favorite flavors.
Local Pittsburgh Delivery Only:
– Minimum order for delivery is 1 dozen (12) cookies
– Must order by 7:00pm for next-day delivery; orders placed after 7:00pm will be delivered the following morning (two mornings away)
– Delivery fee included
– Please specify delivery address if different than your billing address in checkout note section

Our cookies are great for:
– Breakfast
– Brunch
– Hotels
– Cafes
– Offices
– Retirement communities
– Church functions
– Holidays
– Reunions
– Birthday parties
– Cookie tables
– Gifts
– Weddings
– Cafeterias
– School events
– Fundraising
– On the go!
Send us a message

if you'd like daily, weekly, bi-monthly or monthly cookie delivery!

SUGAR-FREE VARIETIES & ALLERGENS DISCLAIMER
The all-natural sweetener I primarily use is Whey Low® Type D Granular, which is a NON-vegan sweetener made from fructose and lactose.
PER THEIR WEBSITE, www.wheylow.com:
100% Natural
75% fewer Calories than sugar
70-80% lower Glycemic Index than sugar
* Only 1 Effective Carb per Serving
* Caloric value of 1 Calorie/gram (table sugar = 4 Calories/gram) supports low-calorie diets
* Effective carbohydrate content (or net impact carbohydrates) of 1 gram/teaspoon supports low-carbohydrate diets.
* Natural sugars in Whey Low® inhibit absorption of dietary carbohydrates such as starch and sucrose
Whey Low® is:
– All-natural
– A patented blend of natural sugars
– Has 5 Calories per 5 gram tsp.
– Replaces sugar one-for-one
ALLERGENS
Please note we use the following allergens in our kitchen: tree nuts, soy, wheat products, eggs, and dairy. We try to keep products separate, but cannot guarantee there is no cross-contamination. Please keep this in mind when ordering and disclose any allergies to us before or at the time of ordering. Thank you.