Description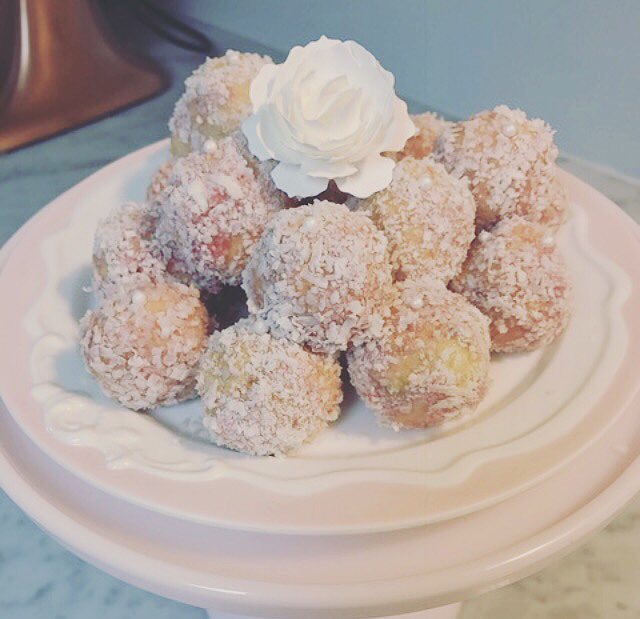 DUE TO HOT WEATHER AND POSSIBLE MELTING, THESE ARE ONLY AVAILABLE LATE FALL THROUGH WINTER.
***LOCAL PICKUP ONLY IN SPRING AND SUMMER MONTHS***
Champagne Cake Truffles
CONTENTS
These 15 boxed Champagne Cake Truffles (with Dessicated Coconut) make a lovely and tasty gift!
INGREDIENTS
cake flour, butter, champagne, vanilla, vegetable oil, baking powder, egg whites, dessicated coconut, natural cake enhancer, Whey Low® Type D Granular sweetener, salt, natural food color, sugar OPTIONAL
OPTIONS
(See options available in pulldown menu when ordering)
– Sugar Free OR Sugar Added
– Plain Champagne OR Pink Champagne

NOTE
As a pastry chef, my goal is NOT to have the lowest-carb products on the market, but to substantially lower the carbs without affecting quality or taste. You do not have to be diabetic to enjoy my sugar-free and low-sugar pastries!
STORAGE
The truffles are best kept REFRIGERATED.
PICKUP ORDERS
Please contact me BEFORE ordering for ordering instructions and to arrange pickup of your order. Pickup is in Pittsburgh (South Hills), PA.
FREE SHIPPING!